Books are going to the big screen more and more...
However, these movies aren't always true to the spirit of the books. This is where these reviews come in! These reviews are from those who have both read the book and watched the movie to tell us the differences, which may contain spoilers. This is good for those who read the books and are wary of watching the movie, those who have seen the movie and are curious about the book, and those who just want to see what all the fuss is about! Comments are enabled so feel free to share your opinion but lets be appropriate.
BE WARNED SPOILERS AHEAD!!!!
Powered by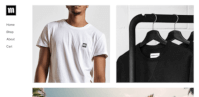 Create your own unique website with customizable templates.